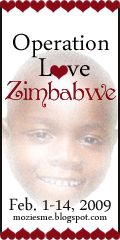 Drumroll, please... Announcing the winners of the Operation Love Zimbabwe giveaways!
$25,000,000,000 Zimbabwean Bill

- #20, 21, 22, 10, 4, 1, 13, 16, 5, 25

Wolf Spirits

, Kate,

Family Musings, DeAnn, A bit of this and a bit of that…, The Laughs Will Go On…, Leah, Ma Vie Folle, Diary of a Stay at Home Mom, Wishing Penny
We have attempted to contact all the winners to get shipping addresses. If we don't hear back from you by February 24th, we will draw another name.
And guess what? We've left one drawing still open! The rules on that giveaway were that there needed to be at least 100 entries in order for there to be a winner, and we fell a little short of that.
It's our game, so we can change the rules, right? So the giveaway for a book on Zimbabwe (open worldwide) is still open and will remain open indefinitely unless/until there are at least 100 comments... Check it out and get your friends to enter, too, so we can give that book away!