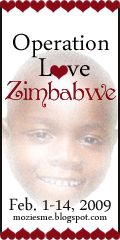 Wow - what an adventure we've been through in the last two weeks! We've really enjoyed getting to know a few more people in the blogging community, and plan to meet more as we go through all the comments in the next few days (um, weeks?).
You've blown us away with your support. It was our first event of this kind, and we definitely want to do something like this again.
We owe a lot of people thanks...
The people of Zimbabwe who inspired this event and inspire us every day with their resiliance and fortitude.
Our giveaway sponsors:

Our button designer, Summer at Summer's Nook.
Those who allowed us to repost their writings for our readers:
The many people who spread the word via emails and buttons and blog posts and Twitter and even verbally! It has been wonderful to see little Mavinga's face on so many sites! Special mention goes to Pamela at The Dust Will Wait, whose site generated the most hits of all non-contest sites, thanks to her Operation Love Zimbabwe sticky post.
And I don't want to forget the readers who answered our questions on giveaways way back in November, and the people who guest posted during December/January to keep our blog alive while we had limited internet access.
The Zimbabwe journey's not over yet, folks. We'd love to have you stick along for the ride. Once again, old friends and new, thank you so much!
A Jay and Deb Production.