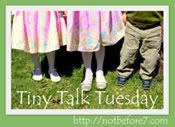 We are struggling to figure out how to use the carrot, so to speak, to get cooperation from Esmé (27 months), whose favorite word is "No!" As you might be able to tell from these conversations, ice cream and lollipops aren't working so well as "carrots"...
----------
Waiting in the car for Pappa to get something in the grocery store, Esmé was trying to convince me to let her out. I was expecting just a quick stop and didn't want to deal with convincing her back into her car seat, so my response was "No!"
"Let me out! I go get ice cweam for YOU, Mommy!" She gets me. She really does.
----------
The little miss is misadventuring a lot these days, with a variety of scabs and bruises popping out. While she was checking out a new scab, this is what came out:
"The owie goin' to get me a lollipop. I hafta cry. I hafta cry to get a lollipop."
----------
Another conversation:
"I want a lollipop!"
"No," I replied.
"I want a lollipop."
"You don't need a lollipop," I started to reason.
"For my dolly!"
----------
Esmé was dragging around some big stuffed tigers as I was trying to leave VBS. I started moving the props back to their proper place. She was adamant that they needed to be dragged around.
"Let's go get ice cream," I bribed.
"Yeah! Tiger need to eat ice cweam!" she agreed.
My mission NOT accomplished...
----------
And I'm tired... Any advice from all you expert moms out there?