I've come up with a new strategy to motivate Esmé.
"Astronauts need to know math," I say.  "They need to be able to calculate when their spaceships are going to run out of fuel."
"Astronauts need to put things away," I say.  "It would be chaos if everything was just floating around in their spaceship."
And she's buying it!  Hah!
Yes, she had previously determined to be an astronaut when she turned five.  She's a bit behind schedule, so she's got a rush on things.
And science is one of those subjects I don't have to do a whole lot of convincing to get her motivated in.  She knows the connection…
Needless to say, the Go Science DVDs have been a hit in our house.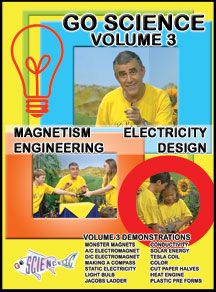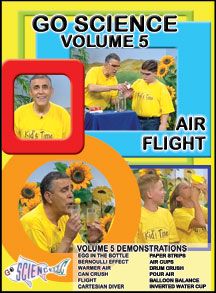 Synopsis:
Every time we learn something about science, we learn something about our Creator God!

Science DVD Series featuring Ben Roy

67 Science Demonstrations on 6 DVDs!

Even kids who claim an aversion to science will be engaged by the high-energy science demonstrations of Ben Roy! Ben teaches science methods at the University of Tennessee at Chattanooga and is the former director of a science program on television. With this expertise, Ben captivates, motivates, and inspires students to be excited about science, while providing effective instruction based on science phenomena. Each of the 67 spectacular demonstrations of physical or chemical science has a spiritual application and points to our Creator!

More information about Ben Roy can be found on his website www.gosicencezone.com and Facebook.
Recommended Age:  Ages 6-14
Price:  $8.97 each, or $47.95 for the set of 6 DVDs (regularly listed for $14.95 each; $79.95 for the set)
For More Info/To Purchase:  http://www.libraryanded.com/goscience/
For More Reviews: TOS Crew
We currently have two of the DVDs:
Volume 3:  Magnetism, Electricity, Engineering, Design:  Monster Magnets,,A/C Electromagnet, D/C Ellecromagnet, Making a Compass, Static Electricity, Light Bulb, Jacob's Ladder, Conductivity, Solar Energy, Tesla Coil, Color, Cut Paper Halves, Heat Engine, Plastic Pre Forms
Volume 5:  Air and Flight:  Egg in the Bottle, Bernoulli Effect, Warmer Air, Can Crush, Flight, Cartesian Diver, Paper Strips, Air Cups, Drum Crush, Pour Air, Balloon Balance, Inverted Water Cup
What Mom Likes:
It all points to the Creator.  When Esmé refers the DVDs, it's always "the ones where science teaches us about our Creator, God."  You can't miss that message.
It's exciting.  Ben Roy's enthusiasm is contagious – especially for the younger ages!  You can tell he loves his subject.
It's educational.  I love mentioning the Bernoulli Effect and having my 5yo start gathering up her funnel and table tennis ball to demonstrate it.  Or observing her spontaneously start blowing across a strip of paper to demonstrate the effect of low/high air pressure.  My daughter is learning and enjoying the process.
This is a series of demonstrations, not hands-on experiments or science lectures. The presenter has done preliminary work ahead of time and uses some items that would probably be hard to locate. While some episodes HAVE inspired Esmé to conduct her own experiments, this isn't really a hands-on learning resource. It also skims through some science concepts that could use more explanation. These factors may be perfect for some circumstances (e.g. science on the road, an easy addition to children's church).
What Mom Doesn't Like:
Some things seem a little staged to Mom – this was originally produced for a  radio television show and I can just visualize the audience cue cards – but 5yo Esmé enjoys the audience interaction.  I think the biggest negative for me is having to get up and change the volume between episodes, as the sound is not consistent throughout the DVD.  And who needs that exercise? :)
Overall:
We LOVE having this addition to our homeschool library.  It's a quick and easy way to incorporate science into our day, with a great emphasis on our Creator.  It's an exciting introduction to science.  And it's a great value for the money, particularly for the younger grades.
I do want to include a little shoutout for Library and Educational Services here.  These Go Science DVDs are a great buy in themselves, but you're losing out if you don't check out their great selection of products.  LES is a wholesale supplier of wholesome Educational Books, DVDs, CDs, and more.  They've opened up their catalog to home educators.  And they have the absolute best prices I've seen on a number of items, including the Your Story Hour series – well-loved classics that are still a favorite in our house.
---------------
Disclaimer:  Thanks to Library and Educational Services for providing two DVDs in exchange for an unbiased review, and to TOS Crew for coordinating the review.  All opinions are our own.