It was my birthday, and our first day of homeschool…
Which marks the announcement of a couple of new blogs:
Esmé's Very Own Blog.
I've always intended to hand this blog over to Esmé at some point, but it just isn't working that way. But we ARE starting to do her journaling online, on her very own blog. And I am loving it! She picked out the design and will be taking all the photos and dictating all the posts (until her typing gets up to speed…). I provide some of the writing prompts, just like with journaling, but other than that, it is ALL her.
Can't say exactly what will show up there, but if you're by chance a preschool-aged media socialite, come on over and say hi!
Glistener.
I've been wanting a more personal blog for myself, and the arrival of a new camera (and a new year) gives me a great excuse to get started on the Project 365 thing I've been wanting to do for years but never felt quite capable of. I love the word "glisten," and the purpose of this blog is capture those glistening moments of life, or those objects that reflect His light…
Mozi Esmé
won't see much change, though I might do more writing as Mom now that Esmé has her own outlet! It'll be Esmé's adventures and learning activities, from Mom's perspective.
Winning Readings
also won't be changing. By the way, if you haven't been over there recently, we've started doing some neat weekly features/guest posts that you might be interested in. Winning Kids (on Mondays) includes children's book lists and book-related activities.
Back to the first day of school thing…
We only got about 1/2 way through the day, thanks to the cold and all that, but we did do our verse/favorite things collage poster. I traced Esmé, since she loves that…
Here's the finished poster. I was impressed to see a series of babies with cleft palates in the list of favorite things – that's my mission-minded girl! Of course, there was a picture of nail polish included to balance things out. And a picture of a girl on strike against carrots. As well as a heart-shaped necklace, a peanut, Mickey Mouse, fairies, violins, and gymnasts.
"No eye has seen, no ear has heard, no mind has conceived what God has prepared for those who love Him." 1 Corinthians 2:9
And our picnic had to be indoors!
Happy learning!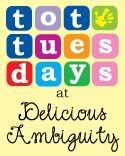 Other than Esmé coming down with a cold and it raining all day for the first time in months, yesterday was an exciting day!