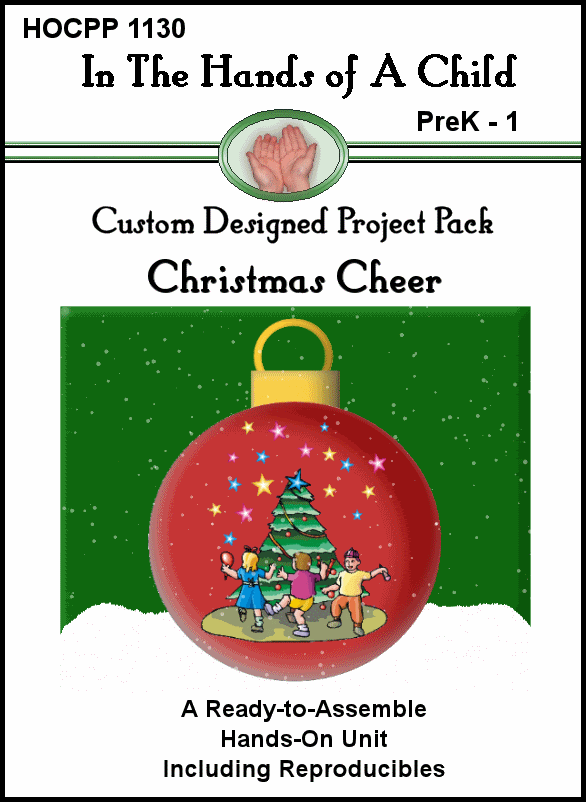 Esmé's Mommy here.
We've started the Christmas season off with a blast using In The Hands of A Child's
Christmas Cheer project pack
!
There are stacks of Christmas activities for preschoolers out there to choose from. If you're like me, it can be challenging to sift through them all to find a fun and varied balance of activities. Then you've got to figure out what materials you need, find any necessary printables, and put all your notes together in a way that makes sense to keep your little one occupied and entertained.
In The Hands of A Child
does all that for you. The Christmas Cheer pack contains a list of suggested books, five days of activity instructions with 3 activities per day, a list of materials, and all the printables you'll need.
So all I had to do was print things out (since I had the ebook version; you can also purchase a printed version), gather up the materials, and put the books on hold at the library, and we were set for the week! I LOVE it!
There was also an example of a lapbook using most of the activities we did, which is a really handy way to store them. Since many of the activities are reusable (like matching cards and mini-books), we'll continue visiting the lapbook for weeks to come.
And as I was putting the lapbook together today, it was neat to see many of the same types of things I've included in the alphabet lapbooks we've put together in the past: a counting book, a shape activity, color cards, and a letter recognition foldout, all Christmas themed. Combine that with creative activities such as snow puppets, reindeer painting, and cotton-bearded Santas, and you've got a great seasonal learning experience.
I liked the fact that most of the book was black and white - so we could color the printables or print on colored paper as we wished - less cost for ink that way. I felt like I wasted cardstock due to the layout of the printables, but I can understand that the layout was done for organizational purposes (only one activity on a page, for instance) and allowed for using multiple colors of cardstock for the different activities if desired.
The suggested age was Pre-K to 1. I think it is perfect for preschool, which is the level Esmé is operating at even though she is 2. She loved the creative activities, recognized the letters, deliberately disobeyed instructions on the color cards, did fine with the matching activities, and glued Santa's cotton beard on amazingly well! The tracing letters were a little too small for her, and of course I helped her with reading any words on the cards, so I do think it would be a fit for an older child, as well.
The one thing I would do differently if I put this together myself is to focus more on the nativity story and less on the secular aspects of Christmas. There was nothing in the package about the Christ child, so we relied on other books and our Jesse tree adventures for that aspect this week.
Overall, a fun and easy way to introduce Christmas themes to a preschooler. I will definitely be looking at other Hands of a Child projects in the future!
You can download the ebook (pdf) version for $12. Check out the
Hands of a Child site
for other formats, as well. And be sure to click on the
free sample button
for the color cards printable with pocket - which was one of our favorite parts of the lapbook!
Thanks to
In The Hands of A Child
for providing the ebook for this
Mama Buzz
review.
Let's show some pictures, shall we, and hope we're not giving away any trade secrets? Here is Esmé putting appropriate amounts of glue onto her Santa's cotton beard project. She did this one almost completely independently. Who knew she'd ever get the glue drops figured out?!
The front of the lapbook - we put on a handprint wreath.
The back of the lapbook - a candy cane shapes matching game. We're not using the words cards yet; just matching two of the same kind of candy cane.
The middle section of the lapbook, still folded. Shapely Santa on the upper left, waiting to be matched up to rectangles, circles, and a triangle. Below that, a letter foldout square with a picture of something underneath the folded tab that begins with that letter. Snow puppets, color cards, and a reindeer counting book in the middle. An open space for the reindeer we are still going to make on the right, and a Christmas tree mini-book with decorations on the bottom right.
And the middle section with the taped inset unfolded. With a wreath still to be colored, a reindeer painting, and Santa with beard.
There were additional activities not in the lapbook, which we may share more about on Sunday's Tot School post.