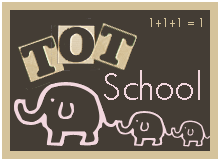 You could say I've been having subliminal school lately... Or we could just admit that we've been on summer vacation, with a week for camping, a week for recovering, and last week for VBS.
We've started back on alphabet school today - I am now an expert in fish! And we've got a fantastic field trip planned to the county fair, too! So expect us back on our regular alphabet programming next week.
In the meantime, though, here are some of the things I've learned and done last week...
Swimming is great fun when it's hot! I've played in my little spraying wading pool with the dolphin, swam in the river with Pappa, and swam at the Y with Mommy.
Picking vegetables is MUCH easier than pickin' berries! Not that I'd eat any of the stuff, but at least the picking is better.
Corn is actually yummy, though, if you pick it yourself and eat it with lots of butter.
And picking is even more fun if you get to pick flowers, too!
Mommy and Pappa love me! That's why they blew up this big bouncy castle that takes up half the living room - it shows they've got their priorities straight!
And Mommy actually got in there with me! Here we are checking out our subjects...
Storytime at the library is lots of fun. Here I am making a bird nest after the stories were done.
Speaking of crafts, VBS is lots of fun, too! Here we're making cards for people.
I learned that forest fires can result in spectacular sunsets.
And that woodpeckers in our backyard are cool!
Forty candles is a lot! Enough to start a wildfire, I bet! I'm helping blow Pappa's candles out.
And we started a whole new month! So I got to color this frog calendar for August. We put a sticker on it for every day.

See you next week with lots of "F" stuff!
---------------
Just a couple of announcements:
If you like reading free books, then make sure you check out our new blog, Winning Readings. It's a bulletin board of family-friendly book giveaways that are easy to enter!
And if you've got a fashionista in your household, make sure to take a couple of snapshots! I'm sharin' the Fashion Friday catwalk here, so post those stylin' photos and link here on Friday.