"It took me four years to paint like Raphael, but a lifetime to paint like a child."
~Pablo Picasso
Esmé's Mommy here.
On my reading "stand" (an empty medicine cabinet that belongs in our unfinished bathroom but sits by our bed) is the library book Drawing on the Right Side of the Brain by Betty Edwards. I've been lamenting my lack of drawing skills every time Esmé tells me: "Draw a sheep! Draw a horse! Draw a pig!" So my husband's aunt recommended this book to me, and I have hope! I will get this brain switch thing figured out one day and come up with passable art!
Two-year-old Esmé, of course, already has the brain switch thing figured out. How else could she take one of these 2-inch critters (encased in a jar for her viewing pleasure and artistic pursuits)...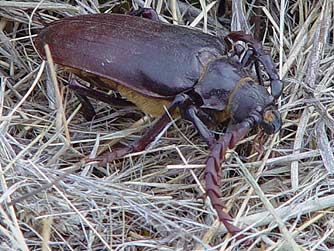 ...and carefully craft this magnificent replication of the scene?
At least she wasn't into tattoo art this day.
And don't ask what we did with the beetle after its modeling stint...