Okay – so the winter doldrums have set in, and things seem dreary and gray – no pure white snow to cover things up here in southern Oregon, just mushy soggy icky green grass and leafless trees everywhere. 
The New Year's razzle dazzle is long past.  I'm antsy at work, agitated with my daughter's school, struggling to focus on accomplishing anything at home.  Miss Esmé is intent on world domination through calculated civil disobedience.  I can use some motivation.
So I pick up The Secrets of Happy Families and start to read.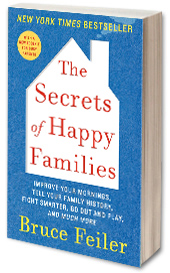 Synopsis
Improve Your Mornings, Rethink Family Dinner, Fight Smarter, Go Out and Play, and Much More

Don't worry about family dinner.
Let your kids pick their punishments.
Ditch the sex talk.
Cancel date night.

These are just a few of the surprising ideas in this first-of-its-kind, bold playbook for families today. Best-selling author and New York Times family columnist Bruce Feiler found himself squeezed between aging parents and rising children.

He set out on a three-year journey to find the smartest ideas, cutting-edge research, and novel solutions to make his family happier. Instead of the usual psychologists and family "experts," he sought out the most creative minds from Silicon Valley to the country's top negotiators, from the set of Modern Family to the Green Berets and asked what team-building exercises and problem-solving techniques they use with their families. Feiler then tested these ideas with his own wife and kids. The result is a fun, completely original look at how families can draw closer together, complete with 200 never-before-seen best practices.

Feiler's life-changing discoveries include: A radical plan that can reshape your family in 20 minutes a week; Warren Buffett's guide for setting an allowance; and the Harvard handbook for resolving conflict. The Secrets of Happy Families is a timely, counterintuitive book that answers the questions countless parents are asking: How do we manage the chaos of our lives? How do we teach our kids values? How do we make our family happier?

Written in a charming, accessible style, The Secrets of Happy Families is smart, funny, and fresh, and will forever change how your family lives every day.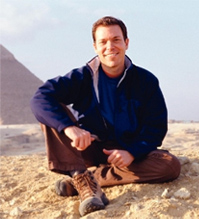 About the Author
BRUCE FEILER is one of America's most thoughtful and popular voices on contemporary life. He writes the "This Life" column about today's families for the Sunday New York Times and is the author of six consecutive New York Times bestsellers, including WALKING THE BIBLE and THE COUNCIL OF DADS. He is the writer/presenter of the PBS series "Walking the Bible" and the forthcoming "Sacred Journeys with Bruce Feiler" (July 2014). His latest book, THE SECRETS OF HAPPY FAMILIES, is a bold playbook for families today. It collects best practices for modern-day parents from some of the country's most creative minds, including tops designers in Silicon Valley, elite peace negotiators, the creators of Modern Family and the Green Berets. The book was a Top 5 New York Times bestseller.
Format: 320 pages, paperback 
Genre: Nonfiction – family & relationships 
Publisher:  William Morrow 
List Price:  $14.99 
For More Information: http://brucefeiler.com/books/the-secrets-of-happy-families/
Additional Reviews Found Here:  http://litfusegroup.com/author/bfeiler
Mom's Review
Bruce Feiler has put together an easy-to-read, nicely-organized book full of practical examples and easy-to-follow advice.  I've read my share of pithy, inspirational business management books, both while working on my MBA and as part of leadership book clubs, and this book almost fell into that genre, only relating to families instead of businesses.
There are several key topics:  adapt all the time, talk, and go out and play.  But the "to-dos" – the best practices - within each topic are numerous.  I appreciate the author's point that, rather than overwhelming us, the list is intended to liberate, because no one can possibly do all of them.  It's up to the reader to pick and choose which areas need the most work or which ideas are most practical.
And I do love the flexibility the author suggests.  For example, there are plenty of people who insist that regular family dinners will solve the majority of family issues we face today, and I can appreciate their logic.  But when we've tried that, it left me totally stressed with the preparation, husband was rarely home at the dictated time, and little picky Miss hardly ate anything.  In the chapter "The Right Way to Have Family Dinner," the author points out that the conversation is what's important, not the time of day or what you eat.  Maybe the family is together at breakfast time, or gets together for a dessert at 7pm.  Maybe "family dinner" is a once-a-week affair or even a routine pre-bedtime discussion with no food involved.  The book gives plenty of examples, and for me it was like a light bulb turned on – yes, we can make some of these work for us!
This is a secular book, and the one thing that would have made me appreciate the book more would be an emphasis on the spiritual, since God is a fundamental part of our home.  The author does include examples of religious families, but there were sections of the book, like the "Lessons from the Sex Mom" chapter, that didn't resonate with our choices.
Overall, this book is an interesting read, most appreciated by me because of the many practical examples of how a family can incorporate key principles in a way that works best for them. We've already begun adapting and incorporating a number of ideas from this book.  And there is light at the end of this dreary wintry tunnel!
---------------
Disclosure:  Thanks to Litfuse Publicity and author for providing the review copy of this book.  I received it for free in hope that I would mention it on my blog.  Regardless, I only recommend products or services I use personally and believe will be good for my readers.  I am disclosing this in accordance with the Federal Trade Commission's 16 CFR, Part 255: "Guides Concerning the Use of Endorsements and Testimonials in Advertising."
---------------