Seeing as astronauts need to know math and all, we've been working really hard on math lately.  In fact, our "full" school days have recently included four different math programs on the agenda.
Never fear – not all of them are tedious...  Cap Jack'll convince you of that.  His stuff complements just about any full math curriculum as he walks you through facts practice.
Synopsis:
Supercharges math fact memorization.

Works with any comprehensive math curriculum and makes math facts fun.

CapJaxMathFax™ system has controls that allow small-step goal-setting so progress is evident and guaranteed.


Uses a computer to provide drill and practice so that practice time is not limited by teacher availability.
Automatically generates exercises. Teachers don't prepare quizzes. They merely provide the parameters for them.
Builds exercises for any of the four math tables (addition, subtraction, multiplication, division) or any combination of tables.
Guarantees student success by taking small steps through levels of
difficulty.
Can focus practice at a single level of difficulty or may review earlier levels.
Randomly generates problems without repetition.
Allows variable numbers of problems in an exercise.
Reduces learner stress by timing facts individually.
Provides immediate positive feedback for correct answers.
Provides extra reinforcement for fast, correct answers.
Displays an overall performance report at the conclusion of each exercise.
Prints reports for teacher review and for use as certificates of achievement.
Displays and prints item diagnostic details.
Uses a rating system that allows students to keep personal scores and
set goals.
Charts student rating progress graphically.
Maintains a database of student activity over time.
Recommended Age:  Elementary (or anyone who could benefit from math fact practice) 
Price:  $29.95
For More Info/To Purchase:  http://www.capjax.com/
For More Reviews: TOS Crew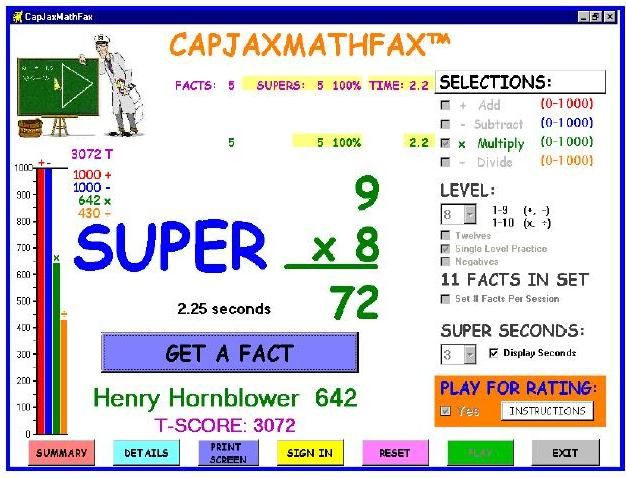 Esmé's Review:
It's like wolf soup.  Duck soup is easy – about a quarter hard.  Chicken soup is about a third hard.  Wolf soup is more than half hard.  CapJaxMathFax is wolf soup.
Mom's Overview:
It is straightforward.  While Cap Jack looks fun and attracts interest, there's not a lot of "game" to this program.  It's simply fact practice, over and over and over.
You can practice what you need.  Select exactly what you want your child to practice – which operators, at what level of difficulty, how many facts…
It provides immediate feedback.  This beats those old timed math facts test I used to have to take back in the day.  You know immediately if you've done something wrong, and Cap Jack'll take you back to that wrong problem for a 2nd try at it (at least with the rating play).
It provides instructor feedback.  As a mom, I can check how long it is taking Esmé to answer problems and get a feel for her problem areas.
There is a keyboard practice option.  This is the area my daughter struggles most – she knows her addition/subtraction facts reasonably well, but trying to find them on the keyboard takes longer than the 3 seconds required for Super Second response (you can set it longer for practice, but the Rating option is at 3 seconds)  - and her laptop doesn't have a number pad.  So we'll be doing the keyboard practice as well as fact practice until she gets faster.
You can play for a rating.  Once you get to the 3-second Super Second point regularly, you can play for a rating for each of the operators, and Cap Jack'll keep track of your level of mastery.  This provides some extra motivation.  (I DO wish you could play for a rating before consistently reaching that 3-second point – my daughter could really use that extra motivation.)
It is easy to install.  No problems for us there.  Available for both PC and Mac.  And it is not dependent on undependable internet speeds.
Multiple users allowed.  The basic annual license allows for up to 10 users.
---------------
Disclaimer:  Thanks to CapJaxMathFax for providing a 5+-month license in exchange for an unbiased review, and to TOS Crew for coordinating the review.  All opinions are our own.