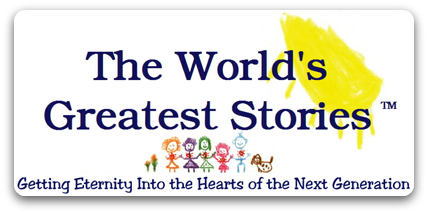 I'm a bit perturbed with Miss Esmeralda* at the moment.  I have been looking forward ALL YEAR to listening to my awesome collection of Christmas music.  Yet whenever I try to stick in a Christmas CD in the car, the little miss says, "NO!  Put in the BIBLE CD!"  And when she follows up with "The Bible is always the BEST thing to listen to," I can't really argue, and she wins every time.
Seriously, this product probably is Esmé's absolute favorite review item of 2011 (followed closely by her rock star costume).  We have Volume 1 – The Prophets, which has some of her favorite stories (three about Daniel and his friends, as well as one about Elijah and one about Jonah).  The other volumes are most definitely on her wish list.
* NOT HER REAL NAME.  Since using kids' middle names is so passé, I simply lengthen the missy's name whenever she is being a pill.  The length signifies the degree of pillyness – "Esmeraldina-belle-oney" means she is is REAL BIG trouble.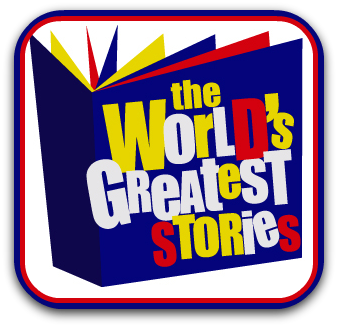 Synopsis:
The World's Greatest Stories are an award winning series of Bible stories that make the actual words of Scripture leap off the page into the hearts of children of all ages.  Children love the stories and listen to them over and over again, often memorizing the entire CD.

Actor George W. Sarris brings to life in the mind's eye the characters and events of some of the most treasured stories in all of history. The texts of all of the stories are taken directly, word for word, from the Bible. They are told, however, using the art of a dramatic storyteller, incorporating carefully chosen music and sound effects. The result is a very exciting story that comes straight from the words of Scripture.

The current audio series contains a total of 23 individual stories on six CDs or cassettes. The stories are recorded in both the King James Version and the New International Version. Each volume is approximately 1 hour long.
Recommended Age:  Geared towards ages 4-12, but can be enjoyed by all ages. 
Price:  $7.95 per volume; Six volumes currently available 
For More Info/To Purchase: http://www.worldsgreateststories.com/
For More Reviews: TOS Crew
What Mom Liked:
The text. It's all straight from the Bible.  We have the NIV version, which is easy for Esmé to understand.
The dramatization.  Can I confess a prideful moment?  When we first put the CD in, Esmé stopped me partway and said, "Why does this man sound like you when you read?"  Now, I love livening up read-alouds with various voices and such, but rest assured George W. Sarris sounds NOTHING like me.   He has memorized the entire text and thought through all the nuances ahead of time (unlike me who keeps mixing up characters and swapping voices halfway through a sentence).  In addition to music/sound effects, he does an awesome job jumping between various characters' dialogue, as well as adjusting narration to fit content (fast/slow, loud/soft).  The stories come alive!
The selection of stories/text.  The stories are exciting.  They flow naturally.
 It keeps my 4yo's attention.  She'll listen to it over and over and over and over and over and over and over...  I love that she is soaking up scripture in this way.
The price.  Very affordable for HOURS of entertainment; the price has been kept down as a ministry for listeners.
VERY highly recommended by the four-year-old in this house.
---------------
Thanks to The World's Greatest Stories for providing a CD for review, and to TOS Crew for coordinating the review.  We are not being paid for this review, and all opinions are our own.