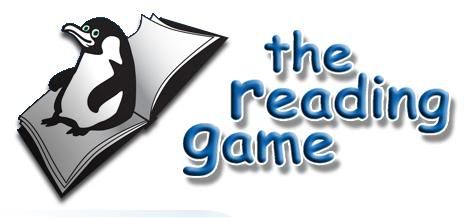 We had a sweet little surprise in the mailbox one evening that had 4yo Esmé chomping at the bit!  I told her we'd play The Reading Game in the morning, but alas, she was too busy tearing open the plastic and mixing up the cards to hear a word I said. 
So I figured we'd make the best of her enthusiasm and pack in a few games.  We made it through the Skunk games and book (the first of six) that same evening.
Synopsis:
The Reading Game is a fast-action memory card game.  It includes a series of six beautifully illustrated storybooks.  The Cards & Books work together to make learning to read exciting and enjoyable.  Game sessions are fun-filled with a winner every few seconds. 

After completing the first memory card game, the student has thirty words "hardwired" into memory.  The Skunk story, Book One in the series, is told using only those thirty words. 

On completing the series, the student has a reading vocabulary of 180 words.  Almost half of them are among the one hundred most commonly used words in the English language.

The Reading Game was created by "Wordly Wise" author, Kenneth Hodkinson.  Learn more about How The Game Works.
Recommended Age:  Ages 4 and up (beginning reader) 
Price:  $24.95
To Purchase: http://www.thereadinggame.com/
For More Reviews: TOS Crew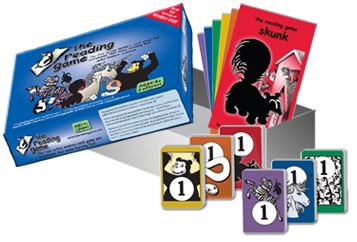 Esmé's Synopsis:
This is a reading game.  I have to read the words that the cards spell.  You have to get the most matching cards, like if you get a bear and a bear, you get to go again, but if you get a bear and a bolt, then you lose.  I am better at the game than my mom.  I got more cards than her.
I like when I win totally!
I don't like when my mom is forcing me around to do what the rules say.  Because I  like to do whatever cards I want to do first or last or second or third or fourth.
The game approach. This uses a standard "memory" game so kids can jump right in without learning a lot of rules.  It's fun and easy – and while not a stand-alone reading curriculum, certainly adds variety to the reading process.
The animals.  To a kid who LOVES all things animal, the animal graphics really made the game attractive.
Fun, rhyming books.  The books go beyond the repetitive "Sam sat" type of verbiage to tell a fun, rhyming story using just the words you've covered in the card games.
The words.  We've spend a bit of time on phonics and on sight words, and the collection of words used in these games fits well with what we've already covered.  As mentioned in the synopsis, almost half of the 180 words are among the one hundred most commonly used words in the English language – a great boost to reading skills.
For those of you following our little non-reader saga, I'll admit that Esmé isn't excited about reading the books for herself, though she enjoys having them read.  While the game recommends that you only move through the series as the student demonstrates proficiency, I'm dealing with a proficient student who isn't interested in demonstrating anything.  Other than her ability to beat her mom at a game of cards time and time again.
What Mom Didn't Like:
Come on, folks!  Couldn't you have made the unicorn series first or second at least?  You know how hard it is to make your girl child get through FOUR other series before she can get to the UNICORN series she has been dying to read?  (PLEASE detect total tongue-in-cheek here!  We love the game…)
Overall:
A fun, interactive way to incorporate some reading practice in your child's day.  (Just hide the unicorn set before you get started.)
---------------
Thanks to The Reading Game for providing a game for review, and to TOS Crew for coordinating the review.  We are not being paid for this review, and all opinions are our own.