We've been living high on the hog lately, thanks to the Pig Pile game from R&R Games, Inc.…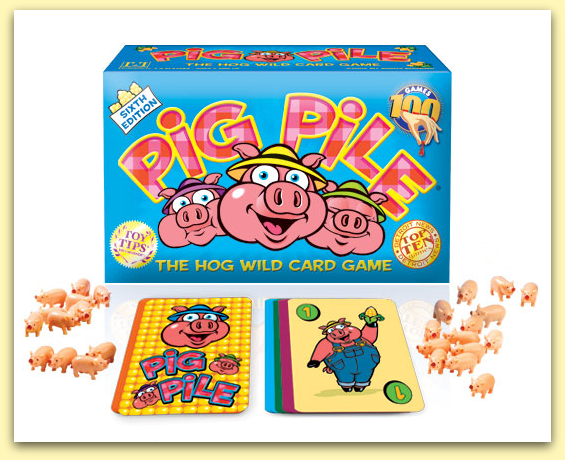 Synopsis:
The jig's up! The pig squealed! Over 39 Pink Pigs crammed into a little box! Now it's up to you to let them out!  No mud slinging allowed in this fast-paced family game where players compete to corral the most pigs. Get rid of your cards first and be awarded the prime pile of pigs. Sounds easy, but pigs can be slippery! The more cards you have, the better your chances of calling out HogWash! and clearing away the deck! But don't hog the cards too long or you'll get stuck. The player with the largest stockpile of swine after the final round wins. Quick thinking and clever card play determine how high you'll heap your hogs.
Recommended Age:  7 & Up
Price:  $15.95
For More Info/To Purchase:  R&R Games
For More Reviews:  TOS Crew
Now, I realize Esmé's a little younger than the recommended age for this game – but the pigs were irresistible!  I knew she'd adore them, plus I figured we've been having fun with card games lately, and you can always adapt cards to play just about anything, right?
I was right, of course…  
We got right to playing when the well-packaged game box arrived on our doorstep.  The rules can be a little intimidating at first, but if you've played other popular card games, you can probably have these mastered after a couple of rounds.  The game can run on rather long if you have just a couple of players and you play until you run out of pigs.  Because I was dealing with a 4yo attention span (that was constantly distracted by herding cute little piggies into rows and ovals  and other interesting shapes) – we adapted the rules, dealing only 4 cards instead of 10 and giving all pigs to the winner after just one set.
What Esmé Liked: 
"Look, Mom!  The pigs are marching in a oval!"  "Let's do math with the pigs – if you have 5 and take away 2, how many are left?"  "Aren't they so cute?!"  It was all about the itty bitty pigs for this girl…
What Mom Liked:
The pigs.  Seriously, these add an appealing twist to what could be just another card game.  The gamemakers did a great job incorporating the pig theme throughout, with terminology such as "hog wild" and "hog wash."
Quick rules.  There is a set of quick rules to get you started right away, as well as more detailed rules as you go along and have questions about what to do next.
Adaptability.  As I described above, we figured out a way to make the game work for a 4yo by simplifying and shortening it.
Family fun.  This isn't a kiddie game that adults grit their teeth through as they play it just one more time.  It's a game that's fun for the whole family.
Math work.  While Esmé might be young for the game, the math skills it uses were just perfect for her as she figured out which card in her hand was the lowest, or was greater than AND closest to the card on the table.  And I LOVE it when math is fun…
Thanks to R&R Games for providing the game for review and to TOS Crew for coordinating the review.  We are not being paid for this review, and all opinions are our own…