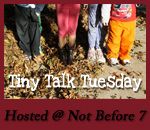 Esmé (3yo) was completing a "follow the directions" worksheet.
Mom: Draw a nose on the clown and color it red.
Esmé colors a big red nose with a marker, eventually wearing through the paper and creating a hole.
Esmé: See – I made a really big nose! It has a hole it it so the clown can put his finger in it!
---------------
Flame the cat (shedding fiercely at this time of year) comes into the living room where the family sits, meowing loudly. Daddy makes a comment of annoyance.
Mom: At least he has presence!
Esmé: Yeah, he has presents – of fur! Lots and lots of presents.
And Flame proceeds to graciously bestow his presents upon us all.
---------------
One summer evening…
Esmé: Daddy, get a big, big, big, BIG, BIIG, BIIIGGGG stick.
Daddy: What for?
Esmé: To grab the moon and bring it down to the ground!
Daddy: Why?
Esmé: Because I LOVE it!
---------------
Esmé sees Daddy for the first time after his haircut. After giving him a hug, she takes a second look.
In a tone dripping with empathy, she asks, "Daddy, what
happened
to you?"