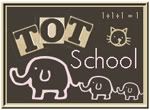 "Whales can fly. Whales live in the water. Whales eat penguins – lots and lots of penguins. But not penguins that live in the house. Whales splash in water and eat penguins. When I saw one at the beach, it would spout water on me, and I would be wet."
So began our unit study on whales! That, in a whale-shell, is what I could tell you at the beginning.
Now I know ever so much more. I know most whales eat teeny tiny itty bitty things like plankton and krill. And fish, of course. And I know the difference between toothed and Faline (baleen, okay, okay!) whales.
So, let's give you a rundown on some of the things we did. Then Mom's got a review of the
Download N Go Whale Tales study
at the end. And you can check out a
Download N GO interview here
.
Let's start with books, shall we?
The week was also full of online videos, activity pages, and fact finding.
We did a lapbook, of course… Here are a few photos:
On the cover page, we put together a poem, Mom and I. I told her words that started with certain letters, and she put them all together:
Wagons circle;
Helicopters whirl;
Apples crunch.
Loud as whales,
Esmé's elephant trumpets.
In the middle of the lapbook is a Jonah whale, pictures of different kinds of whales, a wheel of different oceans of the world, some facts on mammals and killer whales, and vocabulary cards. Mom put most of it together. On the back cover is a world map listing oceans of the world. Did you know there is a Southern Ocean? Mom didn't…
In addition to the lapbook stuff, there were other activity sheets. Like where I had to draw me and a whale. I'm the one lying down in the sand, by the way. And the squiggles are a spout from another whale.
There was a Jonah sequencing and pasting sheet.
And a food pyramid pasting sheet – after we talked about what whales and humans eat.
Lots more fact sheets, but we'll stop there.
As far as activities go, we started out reviewing Creation and how whales were made. Mom glued velcro on the back of some clipart to use on the felt board.
Then we acted out the Jonah story with more clip art that Mom happened to have on hand…
…followed by a ride in the stormy sea in my cardboard box boat!
I learned how to play Go Fish for the first time – with Jonah cards!
We studied the ocean. First we made ocean pie – cream cheese filling with 1/5 strawberries on top, the rest blueberries to represent the ratio of land to ocean…
And I got to clean up afterwards! Washing dishes is quite important.
I got out my boogie board!
Then we made soap using ocean molds.
After they got hard, I played with them – a lot.
Mom and I made a fish mobile together. I hung the fish up all over, rather than just on the mobile hanger.
I drew a dot whale – literally!
And did some whale coloring sheets.
Of course, I had to play I was a whale… Here I am in my flukes.
We did whale fingerpaintings.
And Mom folded an origami whale, then I drew the eyes and mouth on it.
I put together a whale/letter puzzle…
So that's it in a whale-shell. Now, for the review:
What Mom Liked:
I've been a big proponent of using the internet in education, and this unit fits perfectly! While it does have some stand-alone stuff included, it also brings together book, music, and internet resources. Lots of little video clips, links to fact sites, and links to activities round out the study. Kind of exactly what I would put together myself if I were making up a unit study.
The study is geared towards multiple ages (grades K-4), so it would be great for a multi-grade classroom. Some of the questions and activities are aimed towards the younger folk, while older kids would find other activities more challenging.
Overall, we both learned a great deal! I loved having so much available in one "little" package.
What Mom Didn't Like:
BIG lesson learned – do NOT attempt to do everything or follow every trail in this study, or you will NEVER get through it! We are on a big time whale break at the moment while Esmé and I recover after 3 weeks of whales. This is a one-week lesson. And we only skimmed through Days 4 & 5…
I mentioned previously that this would be a good fit for a multi-grade setting. While Esmé is doing some K work and parts of the study were a good fit, I found myself doing a lot of the work and then sharing the facts with her. If I were to do this again, I would just cut out the stuff beyond her level…
So, I absolutely love this series and will definitely be checking more units out. However, we'll take a less strenuous approach next time to avoid burnout!
If you're looking for a fun study for your kids, check out
Download N Go
to see the variety of titles they have available. We'll be doing the
Davy Crockett
one soon, and the
Pizza Party
looks like great fun!
Thanks to
Litfuse Publicity
for organizing the review download of this product.
---------------
Just in case this post isn't long enough already, let me add the official Download N Go tour information for you:
About Download N Go™

Download N Go™ studies are the next generation of exciting learning products, where unit studies merge with lapbooks in a fun and easy to use curriculum product. Written by Amanda Bennett and The Old Schoolhouse, Download N Go has a growing following!
Seattle, WA - 5/25/2010 - Download N Go™ studies are daily lessons and lapbook instructions woven together with eye-pleasing pages and interactivity based on exciting themes-ready for immediate use.
There are no expensive resources required; these units are complete and very affordable.

Download N Go™ studies are a new kind of learning experience! Exactly what will you find in each weekly study?
· Lapbooking activities.
As the student works through the week, he/she is creating a lapbook-a finished capsule of learning.
· Daily lessons.
Each study is one week in length, having five daily lessons with lapbook components for each day. Simple to use, step by step, but complete in content!
· Eye-pleasing pages of integrated, reusable studies.

Studies include history, geography, reading, science, spelling, vocabulary, writing, art, and more in reusable units, printable as needed-use them for your first child now, your second child in two years, and your third in six! Nothing is consumed.
· Resource list for optional further study.

These studies each have a great list of books that you can use to enrich your learning, but they are not required. This study is complete on its own. If desired, find books easily at your local library using the title and ISBN information for suggested optional resources.
· Interactivity built in with hyperlinks embedded right in the study.

All the research and preparation have been done! Enjoy a variety of multimedia selections, such as video clips and animations, plus educational and craft sites. You'd spend all week searching if you had to find all these great links yourself!
· Exciting themes.

Units are theme-based and full of exciting discoveries and motivation to develop lifelong learners. Your students will look forward to the next day's investigation! Designed to allow you to work them into your schedule (holidays are planned a few weeks ahead), plan to do them a few weeks after receiving them, or a few months-it's up to you!
· Ready to download for immediate use.
Download instantly! A few inexpensive materials are needed for the lapbook, consisting of basic art and school supplies you probably already have on hand such as a simple file folder, a glue stick, safety scissors, brass brads, and crayons or markers. That's it-simple, effective, and what a way to learn! The learning process is on GO from that point on-let the fun begin!
Are you planning for fall? Consider these options ...
Studying animals? Check out the animals in Expedition Australia, Dolphin Days, and Whale Tales.
Add hands-on history fun with Amelia Earhart, Davy Crockett, and Ben Franklin.
Travel farther in geography with Expedition Mexico, Expedition China, Expedition Ireland, and Expedition Australia!
There are many more possibilities!
Whether your schooling approach is unit studies, textbook, relaxed, or a mix of different styles, enriching your child's learning is easy with Download N Go™. Print your copy of the handy checklist and start adding learning, fun, and adventure today!
Remember, the more units your purchase, the bigger the savings.
The Pick Your Own Four bundle
is a good deal.
The 19-week option is a better deal
. But the most savings are enjoyed when you
purchase the 38-week option
!
Expand your family's homeschool horizons--add Download N Go™ to your homeschool! All the research is done for you; just dig right in and start learning!