Let's organize our randomness, shall we? I've got several housekeeping items to get out of the way, so let's list them out in one post...
1. All that stuff yesterday about curriculums? Today I reviewed a book that helped me put things into perspective. It's all about my
primary
goal in educating my daughter. Take this quote:
I don't want children who are just productive members of society. I don't want to encourage my kids to strive after mere happiness either. In the short window of opportunity I have to impact their lives, I want to raise spiritually fulfilled kids who are productive members of eternity.
And I'm giving my copy away! Interested? Check out my review and enter the
giveaway at Winning Readings
...
2. Interested in some educational books?! There are lots of preschool giveaways included in this
Curriculum CleanOUT
!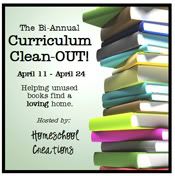 3. I received some homeopathic products for review that we've finally (unfortunately) had a chance to try out

(By the way, I haven't been a huge homeopathic fan in the past, but when we moved to malaria-prone Mozambique, Esmé was six weeks old, and the best option we found for malaria prevention and treatment at that age was a homeopathic option. All three of us used it, and none of us had malaria in the 18 months we were there, though many around us did get malaria.)

It's a little scary trying to figure out what OTC meds are okay to use for small children, and in what dose. With the news that cough meds are taboo, I was very interested in Boiron's homeopathic options for cold and flu-like symptoms in children. They are purportedly natural, kid-friendly, and with no overdose risk.

Well, Esmé's had her share of cold symptoms lately, and I must say she's been enjoying her "medicine!" I've had to set the timer so we can space the doses out far enough, because she will keep asking for it. Anything that makes her happy and is comparatively good for her while she's sick makes me happy!

Check out

http://children.boironusa.com/

for more information.

4. I've been invited to try Time4Learning's

online curriculum

for one month in exchange for a candid review. My opinion will be entirely my own

(not pre-worded for me like this disclosure :)

, so be sure to come back and read my experience with Time4Learning's

educational program

.

Click

to find out more or if you would like to apply to be considered for a review.

I've got more random stuff, but Esmé is busy with the kitchen sink sprayer at the moment, so I've gotta go do damage control! Later...

Esmé's Mom here...