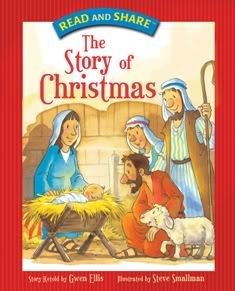 Hi, I'm Esmé, and I'm 2 and a HALF! I got this really terrific book about Christmas that I want to tell you about. I have LOTS to say about it!
First of all, here are the details: It's
The Story of Christmas
by Gwen Ellis, illustrated by Steve Smallman. You can buy it at
Thomas Nelson
for $10.99, which is a pretty good deal considering you get a 15-minute DVD with it, too! This 24-page hardcover picture book is targeted for ages 4-7, and it's just right for me!
Here's what the publisher has to say about it:
"The Story of Christmas
from the
Read and Share™ Bible
is a colorful retelling of the birth of Christ and the events surrounding it. Based on the International Children's Bible, this book begins with the birth of John the Baptist. Next comes the angel appearing first to Mary, then to Joseph, the trip to Bethlehem, the birth of Jesus, the angel's announcement to the shepherds, the wise men and their gifts, fleeing to Egypt, and at last heading home to Nazareth. The "Can You Retell the Story" activity at the end of the book is a fun way for children to learn to tell the story themselves."
Here's what I got to say about it (Mommy's in bold, I'm in light):
What is the book about?

Angels!

What do the angels do?

They say, "Glory to God, glory to God!"

How does the story start?

An angel - a Gabriel angel. He hurts [Zechariah's] eyes. He's in the sky.

Does he tell Zechariah he's going to have a baby?

Yes. There's the baby. And [Zechariah] talks!

Then what happens?

Angel Gabriel went to this woman and she's going to have a baby. Where's the baby go? Keep going!

What's Joseph doing?

He's sleeping because he's tired, because he must go in his bed to sleep. Angel tells him "have a wife!"
A donkey!
A baby! The angel doesn't hurt the baby's eyes!

What's special about the baby?

He was in a manger where the animals were fed.

Another angel!

He hurts their [shepherds'] eyes.

He makes them scared?

Yeah. He says, "Go to Bethlehem."
There's a little lamb!
Angels!

How many angels?

1-2-3-4-5-6-7-8-9 of them.

Only nine?

Yeah.

You're sure about that?

Yeah.
A camel!
Jesus and him [wise man] and him [wise man] came to visit them. No, these are just camels.

No, they are people - wise men!

No, they are camels!

Are they bringing presents?

Yeah.
This is the end.
That's not the end! The donkey carries baby Jesus.
My eyes!

What's wrong with your eyes? Are you seeing angels?

Yeah! They are burning my eyes!
I'm going to look outside and see the angels. [Goes to window - it's dark outside.] Look! I see angels!

You do? What are they doing?

They "Glory to God!" Look, they are next to the light! They are next to the moon! They are hurting my eyes!

Mommy's Notes



Not sure what I can add to that! This tells the familiar story in easy-to-understand language and cute illustrations. Lots of angels, and one line that made a big impact on Esmé: "The angel's light was so bright, it hurt [the shepherds'] eyes." That, plus "Glory to God!"
I would probably also recommend this for the 4-7 age group, though in combination with the DVD, which Esmé loves, the book works great for her. In her relaxed moments, she's happy to sit through the whole thing.
Thanks to
Thomas Nelson
for the review copy of this book, received for a
Mama Buzz
review.