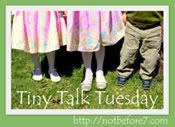 Esmé (30 months) is still talking a lot. And asking more and more questions.
Like "Why?" Yep, she's discovered that one now. The unending question where you never reach a satisfactory answer as you peel back the layers.
But when we ask the same question, we always get a circular answer.
"I NEED to open the freezer!"
"Why?"
"Because I NEED to open the freezer!"
And that completely answers the "Why?" question as far as she's concerned.
---------------
Yep, she's definitely the queen of circular reasoning. This kind of conversation happens all too often:
Esmé: "You are a yoyodote!"
Mommy: "What's a yoyodote?"
Esmé: "YOU are!"
---------------
I need to recite more scripture with her. I was reading a little book about Psalm 23, when she started correcting me.
"No, Mommy! It's Little Bo Peep! Little Bo Peep has lost her sheep!"
I could have convinced her it was Mary with her little lamb, or Baa Baa the black sheep. But not Psalm 23...
---------------
Self-identity continues to be an issue. But she knows she is NOT a "Sure."
Mommy: "You're a skunk!"
Esmé: "I am NOT a skunk!"
Mommy: "Are you sure?"
Esmé: "I am NOT sure! I am a BOY! AND I am a girl."
---------------
Speaking of boys versus girls, here's how you tell the difference.
Esmé put some lip gloss on me. "NOW you are a girl!" she said.
---------------
We've been studying "green" for "G" week. Here are the results of the very scientific playdough study:
"Blue and yellow make green! Blue and yellow and green make a snake!"
---------------
We're still "working" (or is it "playing") at the potty thing. No pressure or anything; the potty simply sits there begging for use every once in a while...
As Esmé sat there one evening, she folded up her legs. "Look, I made a pretzel!" she exclaimed.
Not quite the kind of "pretzel" I was hoping for on the potty...
---------------
She makes new discoveries every day.
"Are you brushing your teeth?!" she asked excitedly one evening. "What's WRONG with you?"
Yep - apparently I NEVER brush my teeth unless something is terribly wrong...
---------------
I love the way she describes reading. When she wants me to read to her, she says, "Get a book! Talk to the book!"
Alternatively, when we're struggling to get to sleep at night, I've taken to telling her stories in the dark. And when I finish the story, it's "Read it again! Read it again!"
If only I had such a photographic memory that I could simply read it again...