Esmé (28 months) and I were in love with this Read and Share Toddler Bible (stories retold by Gwen Ellis; recommended audience ages 1-4) the moment we ripped open the package.
The illustrations (by Steve Smallman) are perfect for capturing a toddler's attention. There are 40 Bible stories, each in a vocabulary Esmé can easily follow, as well as an engaging style that gets the toddler involved. The lessons of God's love are relevant and easy to understand.
There are suggested activities following each story to reinforce it. For instance, in the story of Joseph, I can get out my emotions cards and have Esmé identify the emotions of the various characters throughout the story. Or in the story of Abram's journey to Canaan, I can lead Esmé on a "long" walk or journey, with a treat at the end.
And the Bonus DVD that comes with it? Well, Esmé had it ripped out of the cover of the book and into the DVD player before I finished opening up the rest of the mail. The 60-minute DVD is broken up into three-minute stories.
This is the first Bible story DVD that really captured Esmé's attention to the point that she preferred it over the other non-Bible DVDs we have. I was somewhat surprised, because the animation and story lines were quite simple, but she has requested what she calls the "God/Jesus/donkey" DVD over and over again as her first choice.
To get a better look, check out the
flip book online
. You can purchase this book through
Thomas Nelson
or
Amazon
.
Thanks to
Thomas Nelson's Book Review Blogger program
for the review copy of this book.
---------------
And all the Bible story reading ha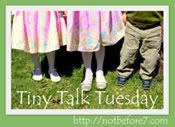 s led to some interesting Tiny Talk...
For instance, Esmé told me she "ha' to eat apple right now; snake say." Now, there is no reference to "apple" in the book, but she's in the habit of calling all red fruit (cherries, plums etc.) apples. And so we discussed how the snake was bad and Eve made the wrong choice.
And then came the slightly bewildering conversation where she started launching bathtub objects at me from her bath, telling me, "I ha' to kill the monster. I ha' to throw this at his head. I ha' to kill you. I ha' to throw this at your head. I ha' to kill you, Mommy." Referring, of course, to the story of David and Goliath. There is no reference to "kill" in the book's version of this story, so I'm not sure where that came from.
Some other cute Esmé-isms: "What clock is it?" when she looks at her watch.
And "Take your clothes off and be happy!" when Pappa and I were having a serious discussion. I have NO idea where that one came from...