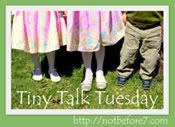 Words overheard from newly-25-month-old Miss Esmé recently:
While hugging stuffed bear: "Oh Bear! I love you! You beyou-ful! I hug you!"
While eating ice cream: "Dis ice cweam nice. Esmé like ice cweam!"
While stepping into a container filled with water and plastic boats: "I boat!"
In response to "What is this?" while looking at a butterfly candle in the mall: "Happy birt-day!"
I think she's counting the days til her next birthday, or at least til we let her blow candles out again.