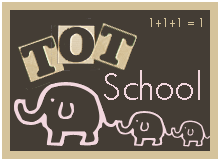 We're not doing any letters this week, but you can't imagine I'd just be sitting pretty and twiddling my thumbs all week, could you? Though I do like
Itsy Bitsy Spider...
So here are some of the things I've been doing. Putting cherry stickers on a paper while wearing my Lil Bratz flip flops. Excuse the dummy - I just stuck it in my mouth for the photo...
Dressing up in beads, which, incidentally, match my play doh colors, so I have to play with play doh when I have the beads on...
Putting bunnies on a Spring tree...
Putting spring flower magnets on my magnet board...
Feeding my mango sorbet to my dolly...
Modelling my latest fashion accessory - this denim skirt. It goes with EVERY outfit! And it's got pockets!
Writing with chalk...
Playing Pooh and Tigger...
Skateboarding! My skateboard is in Mozambique, but Uncle Jaques let me use his. Pappa says we'll go to the skateboard park when the weather warms up.
Testing gravity by letting Tigger bounce on my trampoline...
Helping clean up after church. We meet in a school gym, so we have to roll up the carpet afterwards. I always do my part...
Playin' Santa and checkin' out my look in my little mirror...
Figuring out how to roll up my pants and sleeves. One of those life skills necessary come spring, you know...
Inventing this handy dandy shoe carrier to carry my shoe around... (Just ignore that gas canister in the background - all kids need to play around a gas tank, don' they?)
Workin' out! Here I'm workin' on my abs...
And here I'm workin' the Total Gym machine...
Practicing my pouring...
Arranging flowers in a vase...
We had this box full of VitaSoy Chocolate Milk sitting in the corner, and I just had to have that box! So I grabbed a paper bag and put all the milk containers in there. Mommy caught me in the act.
Then I used the box as a horse...
And as a hat, too!
Eating huckleberry cheesecake ice cream where you get the best deal in town - Sherms...
Giving myself foot treatment by standing in my basket of glass rocks and wiggling my feet...