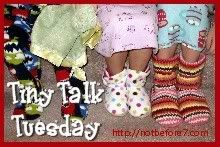 We haven't done a Tiny Talk post in a while, but we're trying to get back on track with all our regular weekly postings, so here's one for ya, narrated by Miss Esmé at 21 months.
---------------
Mommy says 50% of my verbal communication consists of the word "Mommy!" I yell "Mommy" for her to come and see, to come and help, to come and listen to what I have to say, to feed me, to make sure she's paying attention, and just to make sure she's still there.
Then 25% of my verbal communication consists of the word "Nope!" combined with a head shake. We play 20 Questions, Mommy and me, to figure out what I want. I keep saying "Nope" over and over until she gets it.
Then the last 25% of my communication consists of zillions of words, like "strawberry" and "pencil" and "chips" and "stop barking" and "get down" and "upstairs." And with all that, I can make myself very clear...
---------------
While driving in Scotland, I dropped my dummy (aka pacifier) and asked Mommy to get it. What a fun game that turned out to be! I kept saying "Mamma dummy! Mamma dummy!" and she kept saying, "No, Mamma is smart!"
---------------
I like describing things now, like calling Mommy smart, or saying if my food is hot or cold, or if my balloon is up or down. Or telling you "I pretty!"
---------------
OK, that's it for today, folks. Except I promised you some beach photos with my next post, so here they are - photos from our South African visit last month. Don't ya wish you were there?!
This is me boogieboarding...
Checking out the view at Pringle Bay...
Collecting shells with Mommy.
And playing in the sand with my friend Sarah at Strand Beach.