December 2nd.  Day 2 of the Advent season.
Being a little overambitious, or out of my mind, as usual, I committed to five Christmas books and one Christmas movie a day for this season.  Today was the first real test of a busy school day.
And we probably would've done just fine, except we somehow ended up with 6 Advent books/activities we're working through as well.
So, Little Miss was in bed by 9:30 p.m., which gives her 9.5 hours of sleep before getting up for school in the morning, which is perfectly adequate, right?  But we only got 2 books in, so we'll have to make up for it tomorrow?  Maybe she'll have less homework?
One Advent devotion in the morning during breakfast, (a field trip to Elves and the Shoemaker play during school), one as soon as she comes home from school (which also involves making a donkey from a paper plate), one after watching CNN student news, one while she makes play dough caterpillars and practices skipping in place.  Then homework, which includes 20 minutes of reading (a Christmas book), a Christmas movie while eating supper, followed by two more Advent activities, one which involves glitter glue spilling all over the table and a bottle of glitter spilling all over the table and the floor.  Wrapped up with another Christmas book before bed.
So, here are the Advent stuffs we are doing: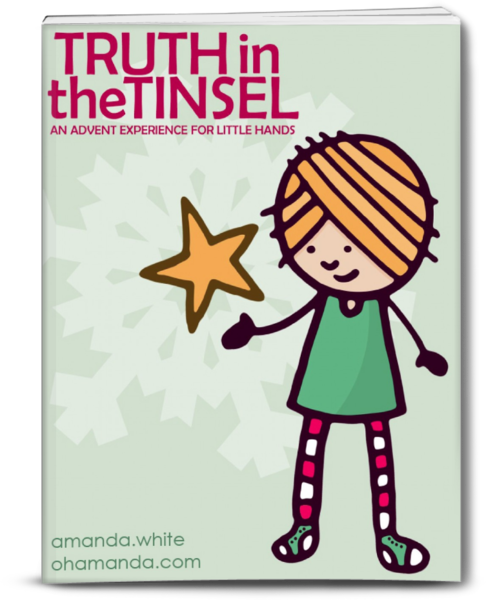 Truth in The Tinsel by Amanda White.  It's back after a year off, per special request from Miss Esmé.  I'm all prepared this year, with craft supplies in little baggies for each day.  A paper chain with a clue per day, a scripture reading, some discussion stuff, and an awesome kiddy craft idea that fits the story and hangs nicely as an ornament.  Starts with the Light and ends with the cross, with most of the focus on the nativity story.  Perfect for your preschooler to 2nd grader – more kid-friendly for the littler set than the Jesse devotionals – and a great way to keep the focus on Jesus during this tinselly (or in our house, glittery) season.  5 out of 5 for kid-friendly, kid-loved, and focus in the right place.
Jotham's Journey by Arnold Ytreeide.  I've heard awesome things about this trilogy – with a chapter a day to correspond to the advent season, kept looking for the books in thrift stores, and finally splurged on the set.  Christianbook.com had the best price I found, though it's gone up a bit since I bought it.
Just barely into the first book, and I can understand the rave reviews.  Exciting, page-turning, an interesting glimpse into the time of the first Advent, it makes the story come to life and draws parallels to Christ's ministry (far beyond the Baby) that kids can relate to.  I think this is the perfect year for Esmé's introduction to the set; she's on the young side of the target audience (Jotham is 10yo) and will enjoy this for another 8 or so years to come if we rotate one book a year.  5 out of 5 based on what we've read so far – the interest factor and the message.
Charlie & Noel by Franziska Macur.
Another first for us this year.  Geared for 4-10yos, it is about a 6yo boy, so a good interest level for this 6yo girl.  A chapter a day, with links to corresponding activities, like the paper plate donkey we made today.  There's a modern-day storyline about a kid who wants to skip the wait and get right to the presents, but gradually learns what the Advent is all about.  And since Esmé has always loved animals "that can really talk," the talking donkey is right up her alley.  Chapters are shorter than the previous selection and this is more suitable for the younger age group.  4 out of 5 so far for interest factor and message; I think a print version with illustrations would make it more appealing.
The Jesse Tree by Geraldine McCaughrean.
  A classic – and I've always loved the Jesse Tree concept that goes way beyond just the Advent story.  Geared to ages 8+, we've attempted this before without getting all the way through, but this year might be the year it grips Esmé's heart.  It's a summary of God and man from creation on, neatly broken out into chapters to fit the Advent season, and is a sweet read both for the versed and unversed in God's story.  We have printable ornaments to match, and I love how the book uses a modern setting – a boy with wisdom beyond his years interacting with a gruff old carpenter in a dusty old church – as the twine to glue the stories together.  Nice illustrations.  4.5 out of 5.
Chicken Soup for the Soul Christmas Treasury for Kids. A story a day from December 1st to 25th.
A typical Chicken Soup book – not focused so much on Christ as on the spirit of giving and selflessness.  Interesting stories and quotes that add to the season, but not something I'd use as the foundation for an Advent experience. Recommended for ages 9+, but the first few stories are of kids Esmé's age. 3 out of 5, interesting and sweet, but not quite the heart of the season.
ADVENTures in Odyssey Activity Calendar – 2013.  If you're an Adventures in Odyssey fan, you don't want to miss this.  Short and sweet devotions, and on point with Jesus, it includes paper craft versions of Odyssey so you can visualize your favorite stories.  (And we recently scored a whole lotta Odyssey cassette tapes at a fall festival, so we're becoming even better acquainted with the stories.)  The paper crafts scared my 6yo at first sight, so they'll probably be a mommy project.  It's free, which automatically makes it 5 out of 5 – but taking price out of the picture, I'd give it 3.5 out of 5, since you won't get the most of it unless you're familiar with Odyssey. 
Loving the glitter and the light!  We'll have more Christmassy books and stuff for ya tomorrow!
No disclaimer:  Nothing received in exchange for this post.  Just passing on the love!