I started out with the idea of making a garland of coffee-filter paintings in Christmas colors. So I set out diluted watercolors in green and red. But that felt a little dull to me, so I added yellow, and blue could be a Christmas color, too, right? And of course I couldn't deny Esmé's request for "magenta"! So we painted away.
Well, the magenta promptly spilled itself all over the table, so we cleaned it up with numerous coffee filters for a nice splotchy effect. And we dipped some of the filters, and overall, all the paints just combined on all the filters in a glorious array of colors.
After the filters dried on the floor and I scrubbed all the paint stains off the floor with scrubbing bubbles and a scouring pad (we are really organized here), I got out clothespins to pin the filters on thick yarn. Well, Miss Esmé had seen clothespins and coffee filters together at preschool before, so SHE knew exactly where to go with this – BUTTERFLIES.
Mountains of butterflies. Hers have two filters per butterfly – I went cheap with just one filter to stretch the garland out a little.
I wasn't going to give up on the garland idea – though I was momentarily tempted to make a butterfly tree instead. So the butterfly garland went up. Not so Christmassy, but so what?
And then I happened upon some SweeTarts candy canes with just the right festive colors. They give the garland the perfect Christmas touch.
AND – it's way up high where Esmé can look and not touch the sweet stuff! :)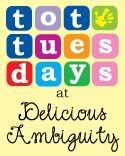 This is one of those projects that doesn't go as planned, but makes me smile every time I see it, anyways…