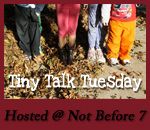 Esmé (31 months) has still been busy talking...
I serve dinner one evening. "Not rice!" she exclaims, refusing to eat.
"You don't know what you're missing," I say, attempting to get her to try it.
"Yeah, well, I better go find it." And off she goes to the pantry, looking for what she's missing...
---------------
Potty use is still something to be avoided by 31-month-olds, despite the promised fruit snacks. Maybe the next step is to turn up the heat.
Pappa remarked, "You peed in your pants!"
"No," Esmé replied, "I was just warming my pants up."
---------------
I finished folding laundry and came up to the living room to find this scene:
"What are you doing?" I asked, a little nervous about my laptop. She's worked with it before, but never on her lap.
"I'm making my blog!" Well, duh! (As much as the word "duh" annoys me, it's the only one that conveys the right expression here...)
Just in case you wondered who was really writing these posts.