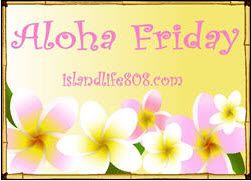 Esmé loves sharing stuff with people that she's made, and I also want her to get in the spirit of giving. We've got a nice big family, so we're going to turn things here into a workshop of sorts for Christmas.
Here's my easy question for Aloha Friday -
what are some USEFUL gifts a toddler can help make?
We've started a little list already:
Bookmarks
Soap snowballs
Decorated votive candle holders
Potpourri sachets

Cookies...

(Note to family if you're reading this: You've got to act surprised when you get the gifts. And we'd prefer that you use the gifts or pass them on to their happy hunting grounds rather than stash them somewhere. 'K?!)