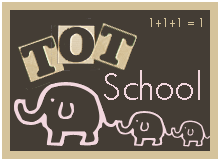 I know, I know - we haven't been posting TOT school stuff for a long time. It's not cuz I haven't been learning. But with Ouma and Oupa here and so much going on, it just hasn't been really structured, which makes it harder to post about.
Plus, we still have 2 weeks' worth of "F" adventures to post about, which seems fantastically formidable to Mommy for some reason. But we are going to make a concentrated effort to get that post done this week so we can move on to "G" next week as we get back to our "new" normal...
You can expect alphabet school to change somewhat, since I'll be at daycare in the mornings and Mommy will have less time to prepare, and we'll probably accelerate to one letter per week for the rest of the alphabet. We'll see how it goes.
Anyways, we HAVE been doing stuff besides reading and book reviews. Lots of puzzles, coloring books, alphabet cards, Jr. Boggle, marbles, do-a-dot and markers and painting, some preschool workbooks, and thanks goes to these two sites for some fun printables:
Spinner Art.
We've tried using a salad spinner for spinner art, but it's never worked right. Well, Mommy found a "real" spinner, paint included, at a thrift store for two bucks, and that works MUCh better!
Paint With Water Books.
Another thrift store find - Mommy says she hasn't been able to find these "paint-with-water" books at regular stores, but we've scored three at thrift stores recently, and that is always clean fun. Though I kinda prefer messy fun, myself.
Cat Matching.
Here is a matching game - Mommy printed out two copies of a page of 12 cats (from the
Toddler Toddler newsletter
)and cut them out. I get to match one set to the other. And play memory with them, too. I also shoved the pictures into my cat Flame's face to try to get him to act like them...
Scarecrow Pompom Sweater.
I made a scarecrow pompom sweater by gluing pompoms onto the scarecrow picture. It got a little wild, as you can see. At least Miss Scarecrow has pompom gloves on.
Collage.
We had a bunch of pictures left over from our "F" collage to make another one - and we STILL have pictures left. So here I am dabbing glue onto pictures of families and flowers and friends...
Scarecrow Counting.
A bunch of scarecrows lost their numbers. I had to figure out which numbers were missing and find those missing numbers, then paste them on to the circles that were missing them. Mommy helped a little, but I do know my numbers pretty well.
The scarecrow stuff came from
Childcareland
. We even got a scarecrow song there that I like singing!
Pumpkin Sizing.
We colored some pumpkins (also from the
Toddler Toddler newsletter
) and cut them out.
Then I had to put them in order by size. That is SO easy. I liked coloring the best. And cutting up the pumpkins afterwards to make them into new sizes. Tell me - if a BIG pumpkin is cut into half, do you put it into size order by the combined halves, or by a single half?
Falling Leaves.
The leaves outside are all wet, so we made our own leaves (once again, thanks
Toddler Toddler newsletter
) and cut them out.
Then I threw them up in the air and let them fall all over me!
Well, that's it for today, folks. I've been working up a storm staying out of the way and creating chaos, too, but we'll save that for another time. Hope you all have a great educational week!