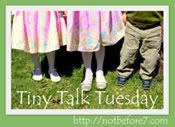 Esmé (29 months) has lots to say these days.
When she woke up one morning, here was her story: "There is a poop tiger on my back! I ha' to scratch it off and take it to the lions' den."
---------------
Pappa and I were discussing something at lunch, and she wanted to interject. "Mommy! Daddy! Mommy! Daddy!" repeatedly until she finally got our undivided attention.
Then, looking all around as if trying to find something to say, her eyes settled on the floor. "The floor is dirty!"
Anything to be part of the conversation, I guess. Certainly not a reflection on my lack of housekeeping skills, of course.
---------------
Speaking of mealtimes, we don't eat at the table often enough, but on this occasion, we were. Esmé decided to show off some manners.
"Please excuse me!"
"You're excused," I replied.
"You WANT to excuse me?" she questioned, an almost-sad look on her face.
So I had to explain that while I loved having her at the table with us, I was excusing her because she asked. She had to think about that one for a bit...
---------------
Pappa has been working on a swing set outside, which resulted in an irresistible ladder close by. Esmé made a beeline to it.
"Please don't climb the ladder!" I warned.
"But I want to see the blue sky!" was her comeback.
How do you argue that one?