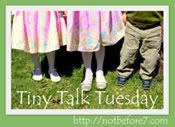 Esmé (25 months) has been singing a lot lately! She sings the traditional songs (with a few variations on words) like
Twinkle, Twinkle Little Star
.
She also likes to make up her own to fit whatever she is thinking or doing. Like "Are you open? Are you closed? E-I-O, E-I-O" as she is opening and closing an empty breath mint tin.
My personal favorite is "I like choc-lit, I like choc-lit. E-I-O, E-I-O."
---------------
If you're a die-hard Esmé fan, you may be interested in this video, though it's a little long. I've been wanting to capture her animal sounds on video for a while, and finally accomplished it here while putting a new puzzle together at the library last week. Enjoy!