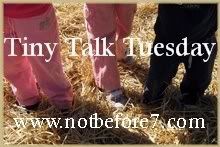 Esmé (19 months) is starting to put words together beautifully! Like "More rice please." Or rather "Mo wice peez." I LOVE it!
---------------
Ms. Catherine: "How old are you?"
Esmé: "Eighteen!" Giggles.
Huh? I know time flies, but really! I always assumed that by 18, we'd be done with potty training and we'd be sleeping through the night...
Ms. Catherine: "No, how old are you really?"
Esmé: "One!" Cheers all around.
That's better! (We have 18 steps on our stairs and count them all the time, in case you were wondering.)
---------------
When Esmé was learning the names of objects, it was fairly easy to understand her. Point, name, got it! But now she wants to hold conversations in the middle of the night in the dark. And I just don't understand! I am so such a slow mother not to be able to figure out if "buh" means "book," "bird," "ball," "balloon," or "bye." Especially when she repeats it for me a dozen times, very slowly and clearly... Fortunately she hasn't gotten frustrated with my slowness, yet.
---------------
And of course, she'd got commands downpat. Things like "sit down" and "lie down" and "get up." One day in the kitchen, she told me to "go away." Plain as day. I want to know WHERE she heard that from...
---------------
We're into giving hugs today. Here's one for Ms. Cathrine.
And one for Mavinga.
And one for you, too, should you choose to accept it!