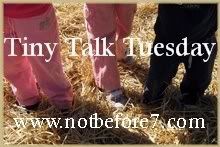 I am learning all kinds of things about letters from my 19-month-old Miss Esmé.
Did you know that the inside of a capital "Q" is a moon? Circle with a gouge out of it - makes sense to me.
And there is an "O" inside of a little "p". Take a look - it is very obvious.
And of course "M" and "W" are basically the same letter. You knew that.
But did you know "M" and "E" are basically the same letter? Especially when you are supposed to take the magnetic letters and match them up to written letters. Hold the "E" right, and it looks just like an "M."
How on earth are kids supposed to figure out this letter thing?
---------------
She continues to amaze me with the way she connects things. Like when Daddy said, "Mommy, your hair is wild!" No further comment necessary. Esmé brought me a brush.
---------------
I heard myself talk through her mouth yesterday. As she was calmly coloring with her colored pencils in the living room, I overheard her say to herself over and over, "No! Bad!"
---------------
Tonight we went to an Indian restaurant with some friends. Esmé's 3-year-old friend A and she had lots of fun touching things - door knobs, the glass panes, the decorations, anything they could get their hands on. A started touching some of the plates on an empty table near us, so Daddy gave him a spiel about germs - how we pick them up by touching things, and transfer them to ourselves by touching our noses and eyes and ears, and transfer them to plates by touching them, and then when people eat from those plates, the germs get into their mouths, and germs can make us sick.
At the end of the spiel, Esmé launched her own spiel. "Eye." Point to eyes. "Mouth." Point to mouth. "Ear." Point to ear. As she started pointing to her nose, she noticed the laughs of those around and started giggling, too, hiding her face in Daddy's shirt. She definitely got the germ message.
And here is a photo of Esmé and A tonight, hands tightly clasped...