It's a random sort of day…
First, I want to share an inspiring article: "
The Death of My Husband
" by Pam Lello. John, her husband, was in a tragic accident last November while serving on the mission field. Pam and John were classmates of my sister in high school, and John later taught science while I attended the same high school, though I was sadly a "conscientious objector" towards all things science at that time… Anyway, Pam's testimony is touching on many levels and well worth the read.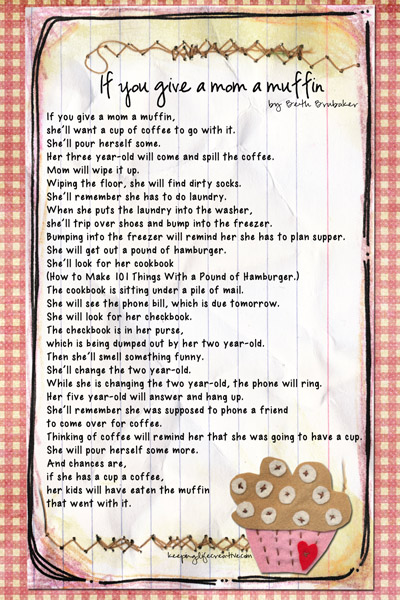 Second, here's a fun "act of kindness" idea I came across today. Esmé is a fan of Laura Numeroff's
If You Give a Moose a Muffin
etc. series – and a fun way to pass time on road trips is to start one off: e.g. "If you give a cat a crayon" and see what craziness Miss Esmé comes up with. I've often wished I'd documented some of these. So I love this free printable over at Keeping Life Creative: "
If You Give a Mom a Muffin
." Pair it up with a basket of muffins or a packet of muffin mix, and you've got a sweet gift for a busy mamma.
Lastly, I'll share our church class craft from last week. The study was on
Abram's rescue of Lot and his townsmen
(Genesis 14), and emphasized how Abram did not take a reward of the spoils for himself, but did give a tenth to the king and priest Melchizedek. There were two take-home activities for this.
The first was a
coupon to be presented to a neighbor, offering an act of service
with no expectation of reward. I used a printable that came with the lesson, but I also found a very cool free printable
Homemade Coupon Book
at Balancing Beauty & Bedlam that would be perfect for this.
The second was a
treasure box
, to represent the treasure Abram recovered, with a slip of paper inside about
tithing
to remind kids to give a tenth of their treasures to God.
I found some paper mache containers at our local craft store for each kid, and set out gems, stickers, and glue for decorating the boxes. Each container included a
Tithing Cup printable
.
Here is Esmé's finished box:
That's all for this week! May your week ahead be full of treasures…