This may be what Esmé thinks of eating kelp…
…but she's far more taken with her new Dive Into Diversity DVD!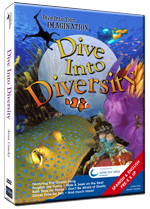 Synopsis:
Dive Into Your Imagination is changing the way a new generation views the ocean and themselves. Founder Annie Crawley, born and raised in
Chicago, did not see the Ocean until College. Learning to scuba dive changed her life. Scuba diving allows people to explore, study, and
experience our ocean. Dive Into Your Imagination was founded and this project was conceived to bring the ocean to children via educators by
integrating all content areas, including character education and a behavioral component in which children use their imagination and become scuba divers during lessons.

There are three DVDs in the Dive Into Your Imagination set:

Each DVD comes with educator guides:  one for Pre-K/K and one for Grades 1-3.

"Dive Into Diversity" teaches children about all the variety of life under the sea and how animals rely upon one another for survival. Take a ride to a depth of 1500 feet in the deep sea with a submarine pilot! Find out what happens on the reef at NIGHT. Learn what eating ice cream and brushing your teeth have in common.

Why do crabs have claws? What can grow three feet in just one day?
Recommended Age:  Grades K-3 
Price:  $19.95 for the DVD.  Now is the time to buy! If you order from Annie Crawley's website in the month of June, you will get free shipping. And if you mention in the comments that you homeschool and would like to have the PDF version of The Educator Guide, she will send it to you for free (a $70 value).
For More Info/To Purchase:  http://www.diveintoyourimagination.com/; www.AnnieCrawley.com  
For More Reviews: TOS Crew
Mom's Overview:  The DVD
Kid-friendly.  This is definitely geared toward younger elementary, but it isn't baby-speak – it introduces kids to a variety of sea life and concepts.
Chapter-based.  While you can watch the whole DVD at once, it is divided into distinct, separate topics.  It is easy to pop in when you need a short time-filler for your kids or want to squeeze some science into an already busy day.
Topics.  There are some "typical" topics:  Invertebrates of the Sea, Coral Reef Living, Kelp Forests…  But there are also segments on submarines, scuba diving, music.  It gives a nice look at what you might consider the "background" of ocean study.  My daughter is starting swimming lessons right now, so she's been able to personalize this to a degree.
English & Spanish.  Both on the same DVD - take your pick!  We've also used the music-only option when the adults were trying to carry on a conversation at the same time… :)
Mom's Overview: The Educator Guide 
Wow.  This is the meat of the program.  There is a h-u-g-e amount of information and activity ideas contained in the guides.  The goal of the guide is to provide many tools and options so you can customize a program appropriate for you.  You'll find options for journaling, book lists, independent learning stations, group activities, discussion topics, quiz material, and printable worksheets/activities.  It's amazing how you can turn a 10-minute video segment into a week's worth of science curriculum!
Eye-candy.  Professionally designed, nicely laid out with lots of kid-friendly pictures, the guide draws one into it.  There are quality printables to use for the student activities as needed.
Classroom-focused.  While not hard to adapt to a homeschool setting (as I mentioned, there are lots of ideas to choose from), the guide does have a classroom focus.  There is some teacher-ese to wade through – you may find it helpful, or not.
It's not dumbed down!  It's fun being able to access both the Pre-K/K and 1-3 guides – which overlap some but do have different levels of activities.  What I love about the the Pre-K/K guide is that, though the activities are more hands-on for the younger ones, the vocabulary and concepts aren't dumbed down.  You can still teach them about "bioluminescence" and "piscivorous" without having to pull out the high school textbooks to supplement the study.
Secular.  The program is appropriate for a secular audience and has an environmental line.  However, I reviewed the DVD transcript and didn't find anything that went contrary to a creationist perspective.  
We've watched the DVD numerous times, but have barely scratched the surface of the MANY activity ideas in store for us with this product.  To give you an idea, here are some of the things we've done:
Creature cards.  We've played games with sea creature identification cards included in the guide. Here we are playing an if-you-can-read-the-name-on-the-card-you-win-the-card-point game.  I thought I had an advantage with this one, but Miss Esmé handily tied me – wahoo!
I have no idea how we started playing for cash – that wasn't in the rules.  Good thing we had an honest kitty banker monitoring things for us. 
I was amazed at how effective this was – we watched another unrelated ocean DVD later, and Miss Esmé was busy identifying sunstars, brittle stars, tube anemones, shark eggs, king crabs, arrow crabs, hermit crabs, moray eels, wolf eels, and butterflyfish all over the place.
Artwork. The segment on night diving suggested painting with glow-in-the-dark colors.  I didn't have any, so we did stuff with textures (mixing sand into tempura, puff paint) and used glitter and metallic paints. 
Fun!
Sensory Stuff.  Also included the night diving section was a discussion of how animals use their senses to locate their food.  I filled a bunch of paper bags with different edible objects and had Esmé identify them with smell.  She then proceed to eat all the peanut butter straight out of the peanut butter bag.I think that's her "modeling" smile, not her "I really really really wanted peanut butter what an amazing surprise" smile.  But I might be wrong.
As you can see, we're having a lot of fun with this.  And learning a lot, too.  Definitely my style of education!
---------------
Disclaimer:  Thanks to Dive Into Your Imagination for providing a DVD and educator guides (pdf format) in exchange for an unbiased review, and to TOS Crew for coordinating the review.  All opinions are our own.