I've tried teaching Esmé piano.  But it's a lot of work to babystep through the beginning steps, enforce practice every day, and have fun while doing it.  Or so I thought.
Enter KinderBach, and all of a sudden it's effortless!  I print a handful of worksheets, set up the keyboard and computer, and we breeze through a week's worth of fun lessons in one sitting.  Dodi's House, the Train Station – who wouldn't love learning with a donkey?
Synopsis:
Starting early with Music and Piano for Children is the best thing you can do for your child's brain development.

KinderBach does not color, sticker or number keys or turn the keyboard sideways.  We just teach the children where the notes are using ANY piano without ANY additions.

Professional Quality Video Lessons Online or by DVD!  You can teach your child yourself for a fraction of the cost.

The best time to learn a language or to begin playing a musical instrument is 3 – 6 years of age.

Presented by Karri Gregor, Professional Musician, Artist, CEO.  Decades of teaching experience; Thousands of Students.

Research clearly shows Piano is the best instrument with the most benefits to brain development.  KinderBach is a unique method of teaching very young children to actually  PLAY PIANO, read NOTES, learn INTERVALS, RHYTHM & music PATTERNS.

No musical background required to teach this program.
Recommended Age:  3- to 7-year-olds 
Price:  Varies by product.  An annual membership is $95.88.  Use the coupon code TOScrew2012 to get 30% off through February 2, 2013
For More Info/Free Lessons/To Purchase: http://www.kinderbach.com/atHome/index.html
For More Reviews: TOS Crew
What Mom Liked:
Esmé Likes This. To be honest, my first thought was this would be too easy for Esmé; it moves too slow; she would be bored.  Didn't happen.  Yes, she's not pounding out Für Elise after 8 weeks of lessons.  Yes, she already knew much of what's been covered.  But she LIKES music, LIKES the critters, LIKES the instructor, and it's keeping her interest.  We go through a week of lessons in one sitting – if you have a younger child or one with a shorter attention span, you can spread the lesson out over four days.
Ease of use.  Not only is it fun, it's easy.  Just print out the worksheets, set up the keyboard, and you're ready to go.  The hardest part is logging into the site on my computer.  And waiting for video to buffer because of our SLOW internet, but it's really not that bad – I just let Esmé finish up an activity while I start the next lesson to give it buffering time.
Music.  I love that actual kid-friendly music is included in the instruction.  We can dance a little to Hot-Cross Buns, etc. during the lesson.
Personable approach.  Seriously, if I ran across instructor Karri in the street, I'd feel like I know her already.  She seems very personable and kid-friendly.
Price. WAY cheaper than actual piano instruction.
Worksheets.  Each week's lessons are accompanied by worksheets and/or sheet music for some hands-on work.  Instructions are given in the DVD lessons.  I never thought I'd be putting down "worksheets" as a "LIKE" item for Esmé!  However, she's been thoroughly enjoying (and completing!) the coloring and activities as she watches the DVD lessons.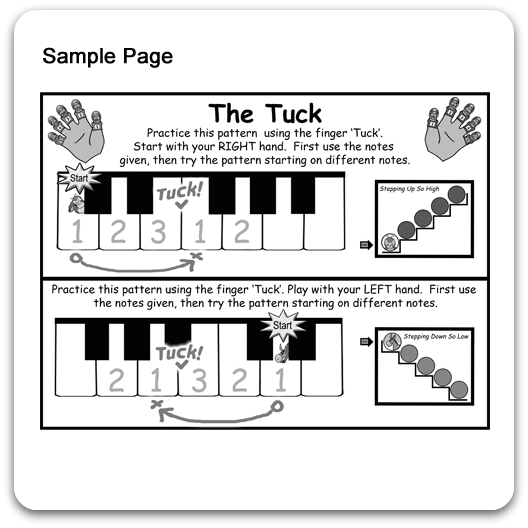 After just over a month of lessons, we purchased an annual subscription for Esmé.  Yep, I think you could say we wholeheartedly recommend this… 
---------------
Thanks to
KinderBach
for providing a three-month membership for review, and to
TOS Crew
for coordinating the review.  We are not being paid for this review, and all opinions are our own.