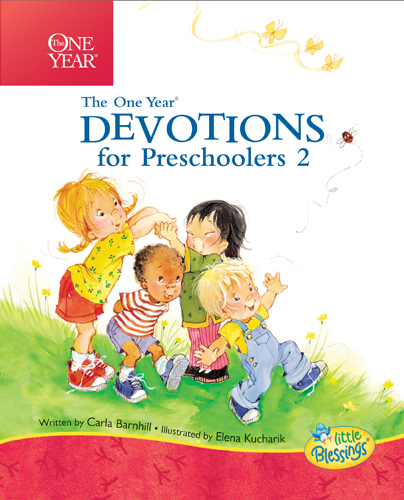 Hi! My name is Esmé, and I am two years old! Mommy says I'm two-and-a-half, but I say I'm just two.
I have a cool book to tell you about today. It is called
The One Year Devotions for Preschoolers 2
, and it's by Carla Barnhill, illustrated by Elena Kucharik (who is one of my favorite artists). It's for kids ages 3-6 years old, published by Tyndale, and has a list price of $14.99.
Here's what the publisher has to say about the book: "The
One Year Devotions for Preschoolers 2
uses the Little Blessings characters to help children through easy-to-understand devotions. Each reading pairs a Little Blessings illustration with a short Bible verse and devotional thought that gets you and your child talking about the simple truths of Scripture. A fun, rhyming prayer completes each devotional. This book is a great way to get young children interacting with Scripture daily to learn of God's wonderful promises and timeless truths."
Here's what I got to say about the book: This is MY book! I like this book! My favorite part is the little girls and boys [in the pictures]. Now can we read more of this Bible [book], please?!
Mommy's Notes
We just started our
Itty-Bitty Bookworm
preschool curriculum today, and this devotional book is the perfect addition to add a godly element to our preschool time!
Esmé loves the illustrations - this is not the first book we've had with Elena Kucharik's sweet artwork, and they always get a high rating from us. And they complement the written text well in this book.
Up to now, our devotional time has mainly been a Bible story reading. This is a deviation from that habit: each devotion is a Bible text and a preschool-level application of that text, ending with an easy-to-remember rhyme. The devotion is short enough to keep Esmé's attention, and while some concepts are still a little above her, they serve as a good trigger for discussing all kinds of scriptural lessons on topics like friendships, promises, honesty, love, and the wonder and awesomeness of God and His creation.
The devotions can stand alone; you can jump in anywhere and anytime without starting from the beginning, and it's even okay to miss a day here or there.
I'm looking forward to going through the remaining devotions throughout this year! Thanks to
Tyndale Publishers
for the review copy of this book, and to
Mama Buzz
for coordinating this tour.