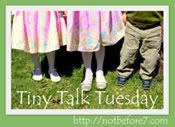 We survived our first day of preschool! It was fun watching Esmé (29 months on Thursday) showing off her "school papers" afterward! And other than a few clingy moments when we first got to the daycare, I think it went as well as could be expected, even with a 5:30 a.m. wakeup!
So what HAS she been saying lately? Well, we get a lot of recitations of her day; what she's been doing and seeing and eating and all that. I even had a great phone conversation with her the other day as I was leaving work, even down to the "See you soon! Bye!" part.
---------------
We still deal with gender identification issues:
"I am a prince, and a princess boy, and a ballerina!"
"I not a baby, I am a princess little girl!"
"I am a boy. I ha' to put the door open!"
In response to "What makes you a boy?" "The sky!" Of course...
"I am a boy!" Pappa says, "Boys don't wear pink." "I AM a boy in a pink dress!"
"I am a girl AND a boy!"
Glad we're getting it all clarified. At least chivalry is not dead and boys ha' to put the doors open, still...
---------------
While playing in the play kitchen: "Do NOT eat the ice cream, Mommy! You must wait for the ice cream to get cooked!"
You know she's heard that one a lot from me. Though usually with pizza or cookies rather than ice cream.
---------------
Her bouncy castle developed a leak and was out of commission for a while. She was adamant that it was fine, though: "Bouncy castle is NOT broken; it's fixed and warm and dry and hungry!"
Of course - if it's all those things, it CAN'T be broken!
---------------
In addition to the "what clock is it?" wording, we get the "what old are you?" question. Especially after all the birthdays we've celebrated lately.
---------------
I'm trying not to be offended by the "Are you put your eye in the dirt?" question I got one morning after not bothering to wash my mascara off the night before. I mean, it's perfectly logical to put your face in the dirt, so it's a perfectly logical question.
---------------
After my first day at work last week, I picked Esmé up in town where she was with her Pappa. On the way home, I turned the radio down a little to catch the words she was singing. To the tune of "Draw Me Close to You," I caught, "Mommy's coming soon," over and over...
---------------
Sand pit play requires the two of us, though I often drag a book out in hopes that I'll get a small break during the course of the play. One afternoon, after sand tea and sand cakes, I ask if she'll play by herself so I can sit and read for a while.
"Yep!"
I get out and and sit nearby. Esmé follows me after a few seconds. "What are you doing?" I ask.
"I am going to jump into your lap."
So I put my book aside. "Ready?"
"First I ha' to pull up my skirt. I ha' to roll up my sleeves." Tough job, that jumping into Mommy's lap...
And then she climbs up and we hug a bit as the book drops to the ground.