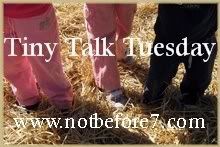 Esmé
(18 months) is adding lots of two-word phrases to her vocabulary. Her all-time favorite "button" sometimes now comes out as "belly button." And "thank you" has finally made it on the list, though always said in a whisper.
Word order is always fun to figure out. Instead of "doll eat" when she wanted her doll to help eat her food, it came out "eat doll."
---------------
Speaking of dolls, with the advent of Grandma, there are dolls all over the place. And
Esmé
needs to have every one of them with her all the time. At least if she realizes they are missing. The trick is to get her away from one spot before she sees the dolls she's leaving behind. Otherwise you will hear "I doll" accompanied with cries . . .
---------------
It is so fun to watch her comprehend the natural order of things and anticipate the next steps. When Daddy washes his hands,
Esmé
comes running with a towel for him to dry off. When Mommy puts on her socks,
Esmé
brings a pair of shoes. Not always the right ones, of course. In her mind, the bigger the better, so Daddy's shoes at size 13 are the BEST!
---------------
We were sneaking to bed at 12:30 a.m. with
Esmé
long sound asleep, we thought. As we were brushing our teeth in the bathroom, though, who should come in, toothbrush in hand, rubbing her eyes but ready to join the party?
---------------
Esmé
LOVES to count. The numbers are all over the board, from 8 to 9 to 7 and back to 10.
She also continues to be super-orderly. After her bath one day, we asked
Esmé
to help clean up by taking her toys out of the bath, specifying each one. She identified them all and carefully stacked them in the corner of the bath. If one of the toys was larger than what she had already placed down, she picked up the previous toy, put the bigger one down, and then put the smaller one on top. All out of her own initiative!
She cleans up after her meals by wiping down her tray and carefully picking all the food off her tray and dumping it (in her lap most times . . .)
And she loves tasting certain foods, but
doesn
't like the textures. So we get a lot of food spitting going on – eggs, cabbage, lettuce, green pepper, etc. The more fun to clean afterwards, of course!
Here's a photo of
Esmé
counting the stairs - all 18 of them!